Cuddymoss: A House for a Bird Watcher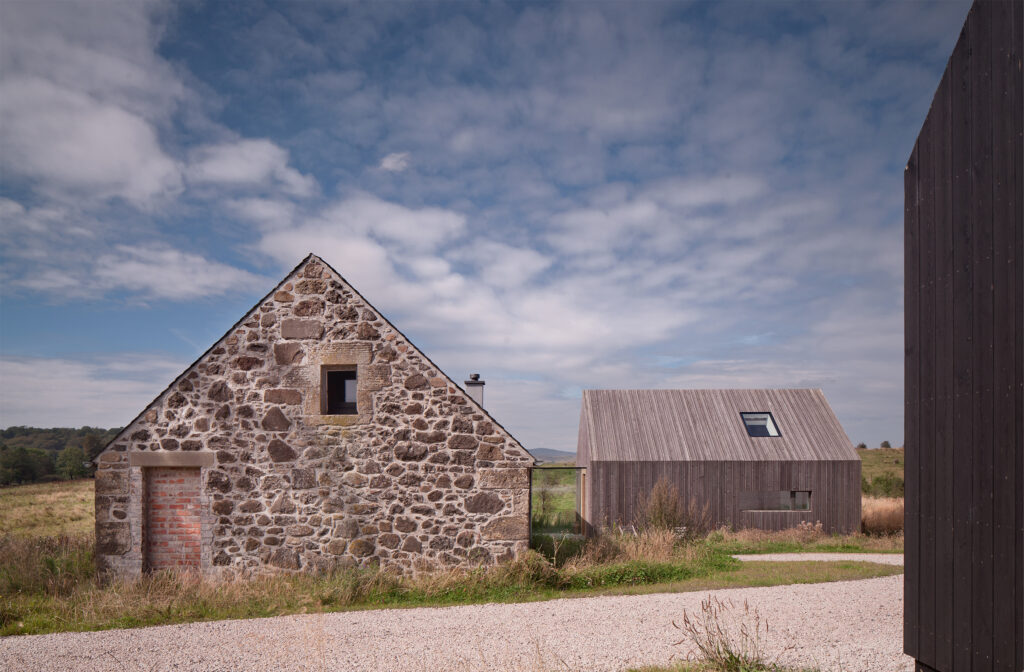 A dwelling house, located within and around a stone and brick ruin in the Ayrshire landscape. The project was conceived as a 'building within a ruin', and consists of a quiet, honest, and restrained intervention, extension, and outbuilding.
When we carried out our first site visit to Cuddymoss with our client, only four external stone walls, a concrete slab, two brick walls for separating cattle and a single internal stone wall remained. The roof had collapsed in several years before and the interior of the ruin was full of debris. The ruin had existed for over two hundred years, it would have provided shelter for people in one end of the building and animals in the other. It had most recently been used as a cow byre.
Every part of the existing ruin was measured and documented. A set of drawings and diagrams were produced illustrating the evolution of the structure from its original condition in the early 1800's, through several iterations, until the most recent structural alterations incorporating Ayrshire brick.
A concept of an 'intervention within the ruin' was developed. This explored inserting a timber frame building within the existing stone structure, allowing the windows to be set back from the original stone openings, creating deep reveals, and visually creating two entities – the new and the old.
Existing 'infilled openings' were re-opened, with only one new opening being formed and located in the front elevation with a thin aluminium projecting frame and frameless glass. The stone and brick elevations were gently re-pointed and repaired.
A second building form is located perpendicular to the existing ruin. A retaining wall was introduced along the east elevation, nestling the building into the landscape.
A simple glass link, routed into the stone wall creates a very simple connection between the new building and the stone ruin. Providing a pause space and a point to view both the external walls and the wider Ayrshire landscape.
A utilitarian outbuilding located to the east of the site completes the cluster.
A ground source heat pump and MVHR are employed for heating and ventilation, and water is supplied via a private borehole. A fabric first approach was followed to produce a well insulated building with triple glazed windows throughout.
Key Information
Area: 170sqm – Completion: Staged completion – Client: Private
"The project has benefitted from a collaborative approach, with the client fully embracing the importance of carefully selected materials, even finding old bricks for re-use in the project. Ann Nisbet Studio have demonstrated an approach to retrofit of the highest quality, with an understanding the importance of adaptability, deconstructability, and use of natural, healthy materials in design."
RIAS Judging Panel
Awards:
Andrew Doolan Best Building in Scotland Award 2023
Dezeen Award-Longlist 2023
RIBA House of the Year-Longlist 2023
RIBA National Award 2023
RIAS Award for Architecture 2023
RIAS Circular Economy Design Award (Sponsored By Zero Waste Scotland)
GIA Design Residential Award 2022
GIA Design Sustainability Award 2022 – Finalist
Press:
Wallpaper Magazine November 2023
Grand Designs Magazine May/June 2023
Homes and Interiors Magazine Aug/Sept 2023
Photographs: David Barbour